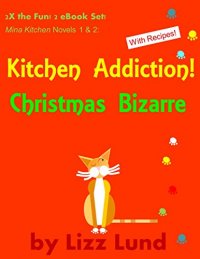 2 FUNNY books for just $1 more than one? Oh, yeah!
COZY COMEDY MYSTERIES X 2! WITH 5-STAR REVIEWS! KITCHEN ADDICTION: Amazon "Vine Voice" 5-star review ** CHRISTMAS BIZARRE: "Reader's Favorite" 5-star review!
If you're looking for funny novels for women, packed with humor, chatty animals (in the guise of pets) — and recipes — look no further. Lund's cozy mystery series – Books 1 & 2 – are hilarious light hearted mysteries that blend delightful characters and great dialogue with a dash of thrillers and suspense. These cozy comedy capers whip up frothy fiction that's sure to amuse Kindle readers. They also deliver a virtual tourist romp through Lancaster City and its surroundings.
BONUS!
Chock full of delightful surprises, both mysteries finish with a bonus section of free recipes, vetted by Lund's chef husband, for your culinary pleasure!
KITCHEN ADDICTION!
Meet Mina Kitchen, a forty-something single who likes to cook — and cook and cook. In fact, her zest for whipping up trays of canapés is dwarfed only by her weird luck and mountain-lion size tabby cat, Vinnie. That, and her godmom's tendency for blackmailing new members into joining St. Bart's. Okay, maybe Mina's Swiffer-addicted neighbor, Vito, is a bit weird, too. As if all that wasn't enough, Mina's a Jersey girl transplanted in the midst of the Amish-flavored countryside of Lancaster, PA.
Things get really complicated when she learns that her neighbor Vito is in a witness protection program, and her dry cleaner deals in prescription samples. Throw in a few mysterious flaming feces flingers and a fuse box labeled in Arabic, and you have a recipe for catering disorders.
CHRISTMAS BIZARRE
What do Santa's Sidekick, a dead lawyer and a geriatric vampire have in common? Meet Mina Kitchen — a forty-something single who finds trouble quicker than she can whip up a batch of breakfast breads. Plural. Her catering disorder runs neck-and-neck with her weird luck, and her cat's weirder tendency toward gnawing elf gear. Okay, and getting kidnapped a couple of times in one week is a little strange, too.
Her next door neighbor Vito's past as ex-leader of the Moils, the Jewish-Polish Family from Bumville, New Jersey, comes to light and throws a dollop of dilemmas into an already simmering plot.
Top it all off with a counterfeiting ring, a county-wide dearth of holiday wrapping tape, and a mass of pets running loose at the local mall, and what do you have? A recipe for disaster that Mina whips to a froth.
˃˃˃
"Christmas Bizarre (Mina Kitchen Mystery 2) is a hilarious sequel to Kitchen Addiction!"
"It kept me laughing all the way through and brought to mind Janet Evanovich's Stephanie Plum stories. Ms. Lund has a bit of a winner on her hands here… Very well written, excellent, quite lovable characters and some very witty lines made this into a book that I would read again…bring on the sequel!
˃˃˃
Double the fun with Bundle #1!
"I absolutely fell in love with Kitchen Addiction! The characters are interesting (and all have their own flaws). I never knew what was coming around the next page in the story. I couldn't wait to finish the book so that I knew the who's and why's while never wanting the story to end. I can't wait for the author to publish another novel!"
"Loved the book [Christmas Bizarre]. I actually read it over 2 dreary days. Cannot wait for the next one. Lizz Lund is my favorite writer."
˃˃˃
Lund's first 2 novels of the Mina Kitchen series combine for delightful reads – and treats!
Recipes are included at the end of each novel, courtesy of Lund's husband, Chef Andrew Mark.
Scroll up NOW and click the "buy now with 1 click" button! Or read it for FREE with Kindle Unlimited!