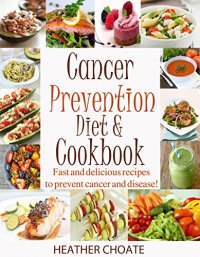 Free on 31st Jul 16 - 4th Aug 16



or borrow free on Kindle Unlimited.
No reviews yet.
If you want to:

o Increase your body's resilience to cancer and disease

o Look your very best, regardless of your age and your current physical condition.

o Have INCREDIBLE energy!

o Boost your immune system: we're talking less sick-days, decreased dependency on medications, and better over-all health.

o AND, feel amazing inside and out…

Then this recipe book is for you!

Now, I'm going to warn you, what you learn here may shatter everything you've previously thought about weight-loss and nutrition. Clean eating is returning to the foods nature provides. This flies in the face of western fast-food, convenience, and processed diet! I promise it is worth it!

You're going to:

o Finally take control of your eating habits.

o NEVER be hungry or deprived again.

o Eat delicious foods that your body will actually crave.

I'll teach you how to:

o Make cancer preventing meals fast with little preparation

o Implement clean eating into any lifestyle

o Find out how EASY and AFFORDABLE it is to eat clean!
Tags: cancer prevention diet, cancer prevention cookbook, cancer diet cookbook, cancer diet recipes, cancer cookbook, cancer recipes cookbook, cancer diet recipes cookbook, clean eating, clean eating cookbook, clean eating recipes cookbook, clean eating recipes, clean eating for health