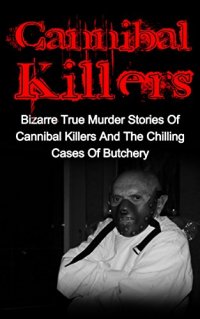 Free on 7th - 11th Sep 15



or borrow free on Kindle Unlimited.
No reviews yet.
Bizarre True Murder Stories Of Cannibal Killers And The Chilling Cases Of Butchery
Today only, get this e-book for just $2.99. Regularly priced

at $4.99. Read on your PC, Mac, smart phone, tablet or Kindle device.
In the simplest of terms, cannibalism is eating the flesh of another human being. It does sound rather gruesome, doesn't it? To eat another person is an unthinkable idea for most people, and yet, did you know that it is a practice that has existed from the time our ancestors were still nomadic hunter-gatherers?
Records and archaeological evidence tell us that human beings have indulged in cannibalism as far back as the Palaeolithic Era, when we first invented and began to use the most primitive of stone tools. While most people believe that this practice is restricted only to the tribal societies – for whom it served as divine ritual – the truth is, even today, cannibalism persists, and in the most bizarre of manners.
The cases I am going to present to you today in this book are not so much about divinity or superstition as they are about simply murder and butchery. They are the stories of some of the strangest and most gruesome killers, who sought to not only take the lives of their victims but play with them and consume their flesh as well.
Here Is A Preview Of What You'll Learn…
Cannibal Killers – What Drives a Killer to Eat Human Flesh?Cannibal Killers – Alfred Packer – The Colorado CannibalCannibal Killers – Tsutomu Miyazaki – The Little Girl MurdererCannibal Killers – The Mauerova FamilyCannibal Killers – Jeffrey Dahmer – The Milwaukee CannibalCannibal Killers – Are Cannibals still Prevalent in our Society?Much, much more!

Download your copy today!
Take action today and download this book for a limited time discount of only

$2.99! If true cannibal killer crimes fascinate you as to what humans are capable of, then download this book now!
Tags: cannibal killers, cannibals, true crime, murder mysteries, true murder stories, true murder cases, missing people, missing persons, unexplained disappearances, crime stories, people who kill, women who kill,