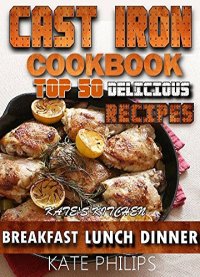 Free on 17th - 20th Mar 15



or borrow free on Kindle Unlimited.
No reviews yet.
Learn How To Bake These Delicious, HEALTHY AND Easy Cast Iron Cooking Recipes!
"Fantastic cast iron Recipe Book!! Must Keep in Collection!!" Jackie Bray on facebook.
"Well written book with good recipes" jenny on twitter.
"Among the Best Cookbooks I Ever Ordered!" Amelia on pinterest.
Health benefits of cast iron cooking.
when we use cast iron over non-stick skillet we are avoiding toxic fumes from non-stick skillet.

You can use it on the stove, or in oven at any temperature.

It turns to be non-stick skillet if you heat it well.

Boost iron in your food which is the great benefits comes from cast iron skillet.

It is cheap and available easily.

You can produce restaurant quality meal with cast iron which look beautiful, it prevent you food to get browned and burned so it look beautiful and cook evenly.

Durable and long lasting.
Experienced chefs refer to cast iron skillet as precision cooking utensil, as it enables accurate control over cooking temperatures. This collection of simple, delicious and healthy recipes will show you just how much you can do with just one cast iron skillet. The recipes in this book are carefully designed to help you make really delicious quick and easy, fat-free cast iron meals on the go. This is a great book for beginners. All 30 recipes have been specifically designed for cooking in a cast iron skillet, your friends and family will love them all.
The benefits you will get after getting this book are huge
how you can make Cast Iron Skillet meals with no effort.

Each recipe in this cookbook is healthy, tasty and easy to prepare.

Step-by-step directions for preparing each of the recipes that makes the process of cooking much easier and quicker.
No matter what your eating style is, these Cast Iron Skillet recipes are simply the best collection of wholesome and healthy quick and fast recipes around.
HERE IS WHAT YOU WILL FIND INSIDE
• Cast iron skillet beef recipes

• Cast iron skillet chicken recipes

• Cast iron skillet vegetable recipes

• Cast iron skillet deserts recipes

• Cast iron skillet corn recipes

• And much much more!!



WHY YOU SHOULD GO FOR THIS BOOK?
• A picture to give you all the nutrition's information

• An eye catching picture of each and every recipes

• A table to indicate the prep time, cook time and the yield

• Step by step instruction

• Easy to follow language

• And much much more!!!!!!!!



Some mouth watering recipes from this book
• Italian Chicken in a Skillet

• Skillet Sautéed Corn

• Quick Sausage & Rice Skillet

• Skillet Chicken Masala

• Beef and Noodle Skillet

• Mama's Skillet Corn.

Now that you know more about this book and why it is for you don't forget to scroll up the page and click on the buy button above so you can start enjoying your delicious and tasty Cast Iron Skillet recipes book right now!
Grab Your Copy Now!
Tags: The Cast Iron Cookbook, cast iron, cast iron recipes, Breakfast recipes, everything cast iron cookbook, cast iron cooking for dummies, cast iron dutch oven recipes, dutch oven recipes, fast and easy recipes, , cast iron free kindle books, cast iron cooking book, cast iron cooking recipes, cast iron pan cooking, cast iron skillet cookbook, cast iron skillet recipes.