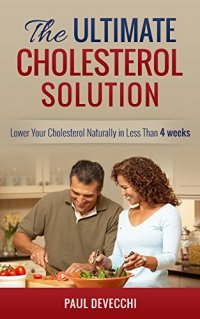 Free on 9th Feb 15


No reviews yet.
This book appears to be unavailable on Amazon.co.uk at the current time. If this is incorrect, please let us know here
Cholesterol For Beginners: Discover Now How Easy It Is To Lower Your Cholesterol in Less Than 4 Weeks Without Drugs
By Reading This Book You Will Learn How to Control Cholesterol With a 7-Day Meal Plan
For a limited time only, get this eBook for just $2.99. Regularly priced at $3.99.
Read on your PC, Mac, Smart phone, Tablet or Kindle device.
***Read Now for Free with Kindle Unlimited***
Cholesterol is a fatty substance which is not soluble in water and therefore isn't found normally in our blood being insoluble in it. They are transported through the bloodstream with lipoproteins which act as a carrier.
Even if the bad cholesterol is naturally present within a human body, the concentration of this can increase exponentially by the food that we eat. Food which are high in cholesterol, saturates and trans fat are the major contributors to the increased HDL in our blood. Foods like read meat, liver meat, egg yolks, deep fried food, peanuts, food made with certain oils such as palm oil and coconut oil and chocolates.
High cholesterol doesn't have specific symptoms and may be invisible unless you do regular cholesterol checks. The symptom for this is a stroke or a heart attack which may prove fatal the first time only. Therefore we need to keep cholesterol on check so that we don't suffer from these problems.
The diet being the major contributor to the high cholesterol should be regulated so as to remain healthy.
Here's a Sneak Peak of What You Will Learn After Downloading The Ultimate Cholesterol Solution Book
What is Cholesterol?Causes & Effects of CholesterolHow to Lower Bad CholesterolDietary Guide7-Day Meal PlanRecipes Foods AllowedFoods That Should Be AvoidedMuch, much more!
You'll Find The Following Main Benefits in The Ultimate Cholesterol Solution Book:
=> Proven steps and strategies on how to lower your cholesterol in 4 weeks
=> The navigation between the chapters has been made very easy.
=> The Ultimate Cholesterol Solution kindle book comes with Linked table of contents which gives you the possibility to jumping to your preferred chapter very easily by just clicking on the title.
Take Action Right Away To Learn How To Lower Your Cholesterol in 4 Weeks.
Download Today This Book, "The Ultimate Cholesterol Solution: How To Lower Your Cholesterol Naturally In Less Than 4 Weeks", for a limited time discount of only $2.99!
Download Your Copy Today!
Stop Procrastinating And Start To Lower Your Cholesterol NOW!
© 2015 All Rights Reserved