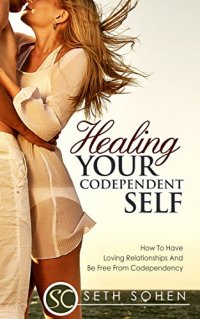 Free on 28th Nov 17


No reviews yet.
This book appears to be unavailable on Amazon.co.uk at the current time. If this is incorrect, please let us know here
Struggling With Codependency?
Do you feel like you have trouble maintaining healthy, fulfilling relationships? Do you often feel like you give more than you receive? Have you ever felt like you're constantly being taken advantage of or spend so much time taking care of others that you don't have time to focus on your own needs? If you think any of these questions apply to you, it's possible you suffer from codependency.
Codependent Relationships
The term has been around for ages, but in the past has always meant to describe those who are in relationships with alcoholics or other addicts. Now, however, we know that being addicted to relationships that help give us our self-worth and validation can be just as painful and detrimental to our emotional health.
As a learned behavior, it isn't your fault! In fact, being codependent isn't always a bad thing. After all, it's good to be compassionate and sympathetic towards others. Still, codependent symptoms can inhibit personal relationships, encourage unhealthy habits, and worsen if they're not addressed and treated. You deserve to be in a mutually satisfying relationship and a codependent one generally isn't.
Sometimes, codependency isn't a problem and doesn't interfere with relationships to the extent that both partners are unhappy. However, for some people it can be serious and this is a problem. Most people do not realize they are codependent. They might think they merely have "bad luck" in relationships, can't find the "perfect" partner, or may believe they have something wrong with them that drives people away. They may lack self-esteem or take on the role of martyr, figuring that people are constantly taking advantage of them and there's nothing they can do about it.
What You Will Learn About Codependency
In the following book we'll go over what codependency is, common characteristics to be on the lookout for, and what causes codependency. Remember, being codependent isn't your fault! You might have grown up in a household where you were encouraged to hide your feelings and suppress your emotions. It may have even served you well for a time! But now is the time to change!
Although it can lead to unhealthy relationships and emotional distress, never fear; there IS help available! Along with some of the causes and symptoms of this behavioral pattern, we'll also talk about treatment options, how to create healthy personal boundaries, and how to start reclaiming positive relationships in your life.
After living a lifetime of deferring to others, taking care of others' needs before your own, and putting everyone else first it's not always easy to start changing your patterns and ways. It IS possible, however, to start taking responsibility for your own self-worth and happiness. With a little bit of understanding of what you're facing, and support from those who have a grasp of codependency you can start getting your life on track and find the compassionate, healthy relationships you deserve!
Would You Like To Know More?
Download and start healing yourself of codependency today.
Scroll to the top of the page and select the buy button.