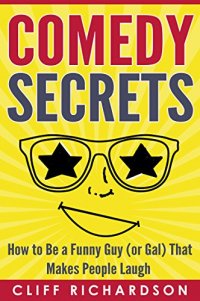 Free on 27th - 31st Dec 15



or borrow free on Kindle Unlimited.
No reviews yet.
Today YOU Will Learn How to Be Funny(er)
If you've wondered how comedians can make hilarious jokes time and time again, you need this book!

Today only, get the new Comedy Secrets ebook for just $0.99. Regularly priced at $3.99.

Read on your PC, Mac, smart phone, tablet or Kindle device.

This book contains proven steps and strategies on how to crack funny jokes, how to make people laugh, and how to see the world in a funny way.

Most other books on comedy will urge you to add randomness to everything, or to add profanity, but they don't focus on the most fundamental principles that make something funny. You will definitely learn those principles today.

Here Is A Preview Of What You'll Learn…
Understand why any given joke is funny.How to deconstruct a joke and rebuild it into your own joke.The two definitive rules to being fully.Properly calibrate your jokes for maximum impact.Include elements that normally wouldn't work on their own and have them become a natural part of your act.Evoke an emotional reaction from the audience without offending Sets of words and phrases that you can use to make your audience perk up

Can you honestly say that you can do all those things?

If yes, show this to a friend who can't. If not, then…

Download your copy today!

Don't leave it to chance!

Take action today and download this book for a limited time discount of only $0.99!

This book is part of a series that teaches comedy writing, comedy improvisation, how to tell jokes, and the like .