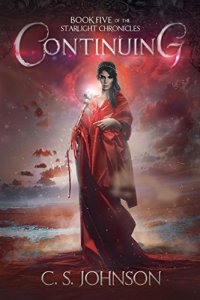 A time of loneliness.
A task to fulfill.
A heart to break.
Things have been peaceful for the past three months in Apollo City. And while this would normally make Hamilton Dinger happy, Raiya?s sudden departure leaves him irritated and angry.
Despite the decrease in crime and attacks, Hamilton knows it is only a matter of time before the remaining Sinisters and their mysterious new leader cause more trouble for him. When Alora comes under attack, Hamilton and his team, with help from his new friend, Mary, set off with St. Brendan the Navigator to restore the flow of time.
But it is only after they work to save Time do they realize how little of it they have left.
FROM THE BOOK:
I was standing before the entrance to my high school, staring into space and sloshing my feet further into the cold wetness of the surrounding slush, when a foreboding premonition settled on me like softly falling snowflakes.
I'm alone.
FROM THE AUTHOR:
The Starlight Chronicles epic fantasy adventure series continues on with Book 5, Continuing, as Hamilton Dinger and his friends face SWORD, Sinisters, and Elysian's long-lost brother, Draco the Dragon. Look for Book 6, Outpouring, to see how it all comes crashing together!
Perfect for young teenagers or disaffected college students, or adults who enjoy some satire mixed in with some star-crossed lovers and high school drama!
WHAT REVIEWERS ARE SAYING:
It is fun watching the youngsters turning into adults, watching their love mature and strengthen. Sure, they have lots to do on the hero side of things and there is the unraveling of mysteries as they go. Never a dull moment. ~ Gay, Goodreads Reviewer
A Fantastic Continuation of The Starlight Chronicles. I cannot wait to read and listen to the next one. ~ Malissa, Goodreads Reviewer