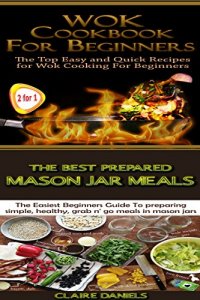 Free on 12th - 16th Jul 15



or borrow free on Kindle Unlimited.
No reviews yet.
The Best Prepared Mason Jar Meals: The Easiest Beginner's Guide to Preparing Simple, Healthy, And Grab N' Go Meals in Mason Jars
Always wanted to know what Mason Jars are?
Why is this process becoming so popular in everyday households?
Want the advantages to knowing how to preserve and save food long-term? While enjoying the what your preserving without losing those flavors and most importantly nutrients we need and planned for when we originally made our meal!
Need guidance, step by step to exactly begin making your own mason jar recipes? Meals?
This is the book for you! Recipes, meals for every part of the day!
This is what you get….
Mason Jars OverviewBreakfast MealsLunch MealsDinner MealsDessertsChildren's Meals
Wok Cookbooks
Usually, the wok is used for stir-frying. Therefore, you need to learn how to stir-fry. Aside from being delicious, what is it with stir-frying that you would want to learn how to do it?
First and foremost, stir-fried meals are delicious. Aside from that, the resulting meals can be prepared fast. The meals are also really healthy and seasoned. Stir-frying with the use of a wok leads to the creation of meals that can lead to the creation of beautiful works of art in the form of good food. This method is best suited for making meals for one or two people. But if you will choose to cook meals for many people, this can be used, too.
Many people see the wok as an unattractive ornament in the kitchen. This notion is common among people who are not aware of the kinds of dishes that can be made from it. But many people are attracted instantly to have one once they tasted the dishes for themselves. Woks are essential for cooking authentic tasting dishes.
Cooking techniques covered:
General Wok Cooking TipsEasy Wok RecipesCleaning your WokMore RecipesMuch, much more!
Download your copy today!