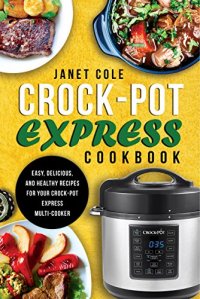 This book will be Free on 14th Aug 22
Set a Reminder:
Google Calender - Yahoo Calender - Live Calender
---
Torn between pressure cooking and slow cooking? With the Crock-Pot Express Multi-Cooker, you don?t need to make a choice!
Crock-Pot has been the leading brand in slow cookers for decades, and now it?s getting into the pressure cooker game. Pressure cooking has a lot of benefits, including faster cooking times and more preserved nutrients, but who wants to buy yet another appliance? The Multi-Cooker combines both pressure cooking and slow cooking into one tool you?ll immediately fall in love with.
In this cookbook you?ll learn all the essentials, including how the Multi-Cooker works, what the programs do, and how to keep it well maintained. Since safety is always important when it comes to cooking, you?ll also get tips on how to properly use both functions, and troubleshoot common problems like undercooked or burned food.
Once you?ve read through the basics, it?s time to get to the fun part: the recipes. Divided into chapters like ?Breakfast,? ?Poultry,? ?Sides + Snacks,? ?Vegan,? and ?Desserts,? you?ll learn how to cook on both the slow cooker and pressure cooker functions. Here?s just a taste of what you?ll find inside the book:
Bacon ?n Egg BakeOrange-Iced Cinnamon RollsDijon Turkey Breast with GravyChicken ?n DumplingsGarlic Lamb ShanksSesame-Ginger Short RibsShrimp AlfredoMasala-Spiced Lentil StewClassic CheesecakeChocolate Molten Cake Whether you want to cook a meal low and slow overnight, or whip up a healthy, filling breakfast in under 30 minutes, this is the cookbook for you. All the ingredients are easy to find in stores, and any unique ones that might be new to you are fully-explained. I hope this book gives you new ideas on how to prepare old favorites, and inspires you to try some new dishes, as well!