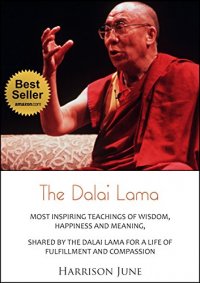 Free on 29th - 30th May 18



or borrow free on Kindle Unlimited.
No reviews yet.
Your Profound Guide to Teachings of the Dalai Lama!

Free bonus inside! (Right after Conclusion) –

Get limited time offer, Get your BONUS right NOW!
Learn how you can transform your physical, mental and emotional well-being with the practical teachings of the Dalai Lama
With Dalai Lama's Most Inspiring Teachings, you'll learn about the ways that a leading spiritual leader suggests you should live your life. The teachings of the Dalai Lama have been followed by people all over the world, and they transcend religion, race and backgrounds. With these teachings, you can improve your emotional well-being to become a better person, and create a better world. You will find: –
o The Connection between Buddhism and the teachings of the Dalai Lama

o How to build compassion in your life

o The Dalai Lama's teachings in the business world

o How children can benefit from the Dalai Lama

o The ways to achieving True Happiness

o The effect of a good heart
This guide is transformational, and will change the way that you approach your life. Learn why all human beings are prone to suffering, and how that suffering can be transformed into happiness, love and patience. With these teachings, you will be able to influence your families, so that they can live, balanced lives}
Read this book for FREE on Kindle Unlimited – Download NOW!
The Dalai Lama has shared his profound teachings for decades, and this book captures the most inspirational teachings of all. You can apply these teachings in every area of your life, and with everyone that you interact with. Use the Key to True Happiness and the lessons on the, Power of Compassion} for a brighter future.
Just scroll to the top of the page and select the Buy Button. Download Your Copy TODAY!