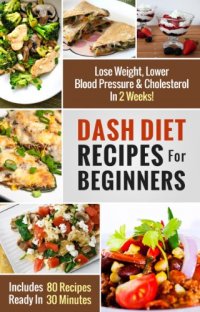 If you want to lose weight and lower your blood pressure without medication (or counting calories), then this may be the most important guide you'll ever read…
Following her wildly successful DASH Diet Recipes Jumpstart Cookbook, Diana is here to take you to the next level with the diet.
Inside this practical guide, you will first discover the exact 5-Step DASH Diet Success Formula that helped Diana Davis (a former High Blood Pressure Stage 1 patient and heart failure survivor) lose over 70lbs and lower her blood pressure to the ideal range… so you can finally do the same!
Then, you will also get:
80 Complete, Mouth-watering DASH Diet Recipes Ready In 30 Minutes or Less – These quick-fix recipes for breakfast, lunch, dinner & snacks are so tasty even most children with picky taste buds will love (Step-by-step cooking instructions included!)The 2 Types of DASH Diet – Find out which one is right for youWhat To Eat More Of And What To Avoid – With the help of a summary table, you'll know exactly what foods to take and their serving sizes, so there's no room for confusionPractical Tips to Jumpstart Your DASH Diet Recipes TodayAnd much, much more!
This guide is the result of her personal experience after experimenting with the often contradictory advice dished out by the various DASH diet experts.
And, it's created especially for busy working professionals who don't have the time or energy to spend hours preparing for their meals or reading "theories".
In just minutes from now, you will finally be able to quickly shed those extra pounds, take back control of your health, look great and feel great…
Simply Scroll Up & Grab Your Copy of DASH Diet Recipes for Beginners To Get Started Right Away!