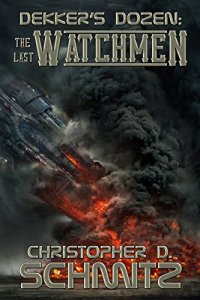 Free on 12th Oct 18



or borrow free on Kindle Unlimited.
No reviews yet.
Also Available as:
Print Edition

Following the Intergalactic Singularity War, Dekker Knight, mercenary and collector of arcane artifacts, works for the highest bidder–but he doesn't take just any job. One in particular, transporting Austicon, the assassin who stalked his family for generations to a max-lock detention, was supposed to close a dark chapter of Dekker's life.
After the constables botched Austicon's incarceration, Dekker's team is forced to hunt down the galaxies' most heinous criminal all over again when a mysterious man claiming to be an ancient, time-traveling prophet intrudes on them. Ezekiel claims Dekker will soon annihilate of all reality–and he knows all of Dekker's secrets: that he wields an ancient, celestial weapon, was once married to a terrorist, and is the last member of the Watchmen–an ancient secret society with roots tracing back to Solomon.
Following the Austicon's theft of a superweapon, Dekker and his team must do the unthinkable to prevent the Earth's annihilation. Worse yet, a demon-possessed tree is attempting to bring "the divine engines of reality" to a grinding halt–destroying all of existence with the death of the planet–annihilating all that is, will be, and ever was!
Steampunk time-travel, cyborg ninjas, deep space unicorn zombies, ghostly rocket-ships, and star destroying Hassidic super-weapons converge in one epic story! How long can The Dozen escape death? How far can Dekker go in defiance of fate and pursuit of love before his actions break the universe?
…also download the FREE prequel to this story on Kindle–Dekker's Dozen: A Waxing Arbolean Moon