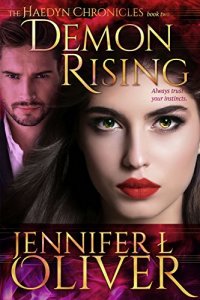 Always trust your instincts.
Six months after defeating Azazel and imprisoning him in the spirit realm, Haedyn has all she?s ever wanted. A family. Love. Acceptance. Until she witnesses the Fae Queen?s murder.
Now the dark fae responsible is after the love of her life and heir to the Fae Throne – Lex, and Haedyn is the only one who can stop him. But she can?t shake the feeling something is off. The killer is always one step ahead. And worse, her threadbare control over her powers is slipping fast.
If Haedyn doesn?t find the dark fae and save Lex, she may become the biggest threat of all.
Manipulation and deceit are what demons do best.
After six long months, Azazel finally escapes the spirit realm with one goal in mind: revenge. He?s going to find Haedyn and make her pay. But things have changed since his incarceration. The Fae Queen is dead. His minions have scattered. And he?s powerless.
Until he sees an opportunity he can?t refuse – take the Fae throne.
Now Azazel must hide himself from Haedyn, Lex, and the Fae, while he sets his new plan in motion or he?ll end up back in hell for good.
Demon Rising is the second book in The Haedyn Chronicles. If you like your paranormal thrillers with smart, kick-ass heroines and snarky evil villains, then you'll love Demon Rising! Grab your copy today!