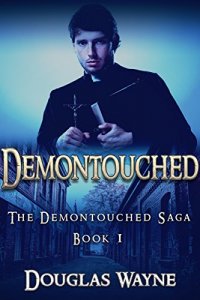 My name is Mitchell Butler, and I'm known as a Demontouched. In return for saving my wife I became a vessel for the demon Einuir, gaining the ability to move metal in the bargain.
The deal had its downside, however, as it kept me from being taken home in the apocalyptic event we called The Rising. Add to that, Eunie's mean streak and you get an unstable man hell bent on the destruction of demonkind and those who wish to enslave us.
With the help of a group of angels, a crime boss named Nal, and my trusty sword, I set out to destroy the horrors of mankind while avoiding the wrath of the head angel, Michael.
Demontouched is a paranormal thrill ride through the streets of St. Louis.
Demonotuched is available for Free on Amazon.
You can read the rest of the series for FREE with your Kindle Unlimited subscription.
Books 2-5 are available to download TODAY. Book 6, Risen, will be released June 2015
Other Books In The Series
Demontouched
Fallen
Reaper
Vessel
Sacrifice
Risen – June 2015