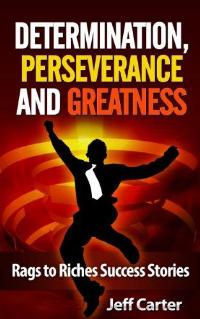 Free on 30th Nov 13 - 4th Dec 13


No reviews yet.
Inspirational Stories of Determination and Perseverance that Lead to Greatness
Today only, get this Amazon bestseller for just $0.99. Regularly priced at $4.99. Read on your PC, Mac, smart phone, tablet or Kindle device.
This book  presents a discussion about the appeal rags to riches has with people around the world. In the succeeding chapters, you will read a compilation of rags to riches stories from people who had humble beginnings but went on to become CEOs, business magnates, sportsmen, actors, and media icons.
But these stories will never realize their significance unless you can capture the meaning of what's to be in rags and what riches entail. The people chosen for this eBook have, at some point in their lives, lived a life of destitute. It was through their own efforts (despite some of them being adopted by wonderful parents) that they made their lives better. Some of them have managed to wield riches at a young age while some only realized it at a time when most people would consider life is passing them by.
Most of all, it is the goal of this eBook to inspire readers to take charge of their own lives and become great people.
Here Is A Preview Of What You'll Learn…
The Rags to Riches Appeal: Why?
Rags to Riches Stories: Historical Figures
Rags to Riches Stories: Business Magnates and CEOs
Rags to Riches Stories: Athletes, Media Personalities, and Entertainers
Much, much more!
Download your copy today!
Get this HOT ebook while it's still cheap only for $0.99! 
Tags : Determination, dedication, perseverance, sacrifice, greatness, Inspirational, Inspirational stories, rags, riches, rags to riches, success, success stories, life stories, historical figures, business magnets, CEO, athlete, media personalities, entertainers, motivational short stories, inspirational short stories