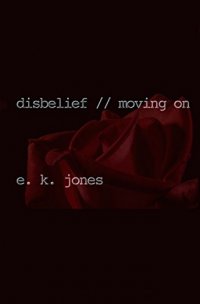 Bargain on 11th - 15th Oct 18



or borrow free on Kindle Unlimited.
No reviews yet.
"Til death do you part" didn't happen. What now?
A story of love, loss, and how we pick up the pieces, this carefully curated set of 28 poems plumbs the depths of betrayal, depression, and loneliness.
They're gone. They won't be coming back. You poured your heart, your soul, your whole life into the relationship. You built something together, something that lies crumbling and deteriorated after they left.
You have to fight on. You have to live YOUR life on YOUR terms.
But it's hard. It won't be easy. Your other half packed up and left. You must become whole again. You can do it. You have to do it.
An intimate, dark, yet optimistic look at what comes after the breakup, disbelief // moving on digs at the recesses of the mind at the heart, digging down to the nerve, and baring it for the world to see. It's a dark, empty bedroom at 2:45 AM, their body's crease still fresh on the other side of the bed. It's a lonely work commute. It's a fleeting glance on the subway, a chance encounter at the coffee shop. It's how we deal, and maybe, how we heal.