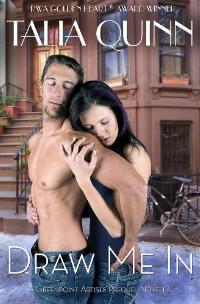 A Greenpoint Artists prequel novella by Romance Writers of America® Golden Heart winner Talia Quinn.
JAZZ, PAINTING, AND A DREAM OF LOVE
Struggling artist Raven Porter thought she'd learned to be tough the hard way. Now, though, she's arrived in New York City from rural Maine, and it's a whole new world. 
With nowhere else to go, she crashes for the night in an empty warehouse. She wakes to the haunting sound of a lonely jazz saxophone. She's not alone.
Finn McKenna, proprietor of Finn's Fermentation Factory, needs to escape from his messy, complicated life, if only for tonight. So he flees to his warehouse and loses himself in his music. Until he realizes he's not alone. 
Raven and Finn fit together. Two creative souls, their passions hidden behind sturdy defenses. If they can only let each other in…