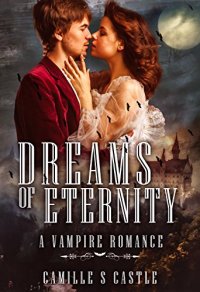 Bargain on 16th - 20th Feb 18



or borrow free on Kindle Unlimited.
No reviews yet.
Two unlikely soulmates are bound for eternity by an unfortunate accident
Fallon
I'm really sick and tired of my job. I have to deal with annoying customers and a disagreeable boss all day. Driving home from work is often a huge relief for me. I get to escape my dreary work life and forget my sorrows for another day.
I thought my day couldn't get any worse. I was dead wrong.
When an apparition with the eyes of a predator materialized in the road I was driving home on, I instinctually swerved to avoid it and ran off a bridge.
I was sure I was going to die, and I was slipping under until I felt strong arms pulling me away to safety
I knew my life would never remain the same again.
Alec
I'm Alexander Skarsgaard, a vampire doomed to wander the earth forever alone.
In my long life, Iive formed bonds with humans and carry the weight of their dashed hopes and disappointments when I refused them the one thing they wanted.
Eternal life.
I still see their faces filled with despair. It haunts my days and nights.
I failed to see the headlamps on time. In my shock I watched as the car swerved and crashed into the railings of the bridge, plunging into the icy water moments later.
Something pushed me into action. As I came out of the water with the unconscious woman, I was suddenly struck by the beauty of the woman I held in my arms. As I beheld her, I knew I had to save her, and there was only one way
Dreams of Eternity is a fast-paced romance novel that will keep you on the edge of your seat until you're done. If you're a fan of titillating and exciting vampire romance, then you need to get this book!
Click the link above to download your copy today!