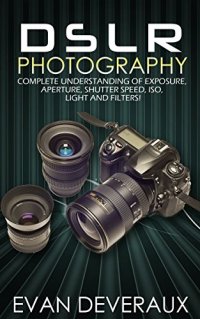 Free on 20th - 24th Mar 15



or borrow free on Kindle Unlimited.
No reviews yet.
Get a Complete and Total Understanding of Exposure, Aperture, Shutter Speed, ISO, Light, and Filters!
Everything you need to know about your DSLR camera!
An In-Depth Look At Exposure!
Learn how to "really" read the Histogram!
View actual examples of "Underexposed", "Overexposed", and "Balanced" Photographs!
Learn about White Balance and the Photographic Triangle!
The Importance Of Aperture!
How to choose Aperture Measurements and Settings!
View Real Pictures taken with various Aperture Settings!
See a perfect example of a picture created with Specular Highlights!
Learn about the easiest way to control your Depth Of Field!
Shutter Speed And Why It Matters So Much!
How to capture "Motion" in photos through Shutter Speed!
View real photo examples of "Freezing Motion" and "Implying Motion" Techniques!
Learn about ISO Speed and Iso Numbers!
View actual pictures taken at six different ISO Speeds!
The Appropriate Use Of Filters!
Which filters to use to increase image quality!
The Single Most Complete Book On The Features And Functions Of Your DSLR Camera!
Get Started Right Now! Scroll to the top of the page and hit the "Buy Now" button!