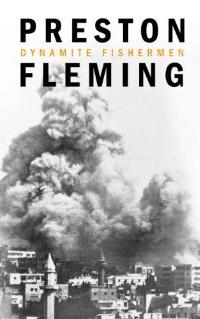 FROM SAN FRANCISCO BOOK REVIEW

American Embassy worker Conrad Prosser simply can't catch a break in Fleming's captivating novel. Despite his fluency in Arabic and impeccable record of gathering intelligence, he's overlooked for promotion. Then he discovers he's being followed. Perhaps his affair with the beautiful Rima (sister of a prospective agent) will help soothe his soul – although that, too, seems unlikely to last.

The beauty in the story lies in Fleming's description of the ways people carry on in the face of daily violence. Markets close during the violence, but open at the first sign of cease-fire. Nightlife continues to throb with people looking for a good time and a strong drink. Love blossoms and dies. Jobs are gained and lost. Fleming's understanding of the way individuals carry on despite the turmoil seems genuine and spot on.

Set in the mid-80's Beirut, Dynamite Fishermen is an absolute stunner of a novel. It's clear Fleming has done his research and it shows in the seamless dialogue and the ease at which he tackles the task of conveying the wartime ambiance. This is a must-read for history buffs – although I feel strongly everyone will enjoy the rapid pace and captivating suspense. Preston Fleming is a writer deserving of many accolades.
FROM PACIFIC BOOK REVIEW

In Dynamite Fishermen, set in Beirut in the early 1980's, Preston Fleming depicts heedless violence as a way of life from the perspective of an American intelligence officer. The story falls during a lull in the long running Lebanese civil war, a period plagued by almost daily car bombings, civilian shootings, artillery attacks and other mayhem. The complexities of the Arab-Israeli conflict and inter-Arab conflicts play out in small clashes throughout Beirut, making it a microcosm of the Middle East.

Conrad Prosser is an American intelligence agent whose routine is to meet with his local contacts and glean whatever news will help to analyze the overlapping conflicts. His constant exposure to violence has left him with a fatalistic attitude because there is really nothing anybody can do in Beirut to be safe.

Prosser's relationships with his sources are impersonal. His relationships with women are no better. Ultimately, he has no purpose except to survive and do his job, and the women in his life invariably become involved in some way with his work. As many details of this conflict continue to reverberate today, this intelligently written novel provides a compelling page-turner and a memorable story.
PRODUCT DESCRIPTION

Beirut, 1982. Conrad Prosser is a skilled Arabist, expert agent handler, prolific intelligence reporter, and a connoisseur of Beirut's underground nightlife. But, as his two-year tour at the U.S. Embassy nears its end, Prosser's intelligence career is in jeopardy because he has not recruited an agent while in Lebanon, a sine qua non requirement for promotion.
Surveying his many contacts, Prosser selects an attractive Lebanese doctoral student and her idealistic brother as candidates for development. At the same time, he holds clandestine meetings by day and night with his string of Lebanese and Palestinian agents, pressing them to discover who is behind the latest wave of car bombings that has terrorized Muslim West Beirut. But when one of his agents supplies information used to capture a Syrian-backed bombing team, Prosser sets off a cycle of retaliation that threatens more than his career and cherished way of life.
At first denying, then later concealing, apparent attempts on his life, Prosser sets out to save both his job and his skin, exploiting his agents, his best friend, a former lover, his new girlfriend and her enigmatic brother. In doing so, he puts their lives at risk and discovers too late the effect of his heedless actions.
DYNAMITE FISHERMEN offers complex characters, fast-paced action, a vivid portrayal of human intelligence operations and the flavor of Beirut during its dark days of ci