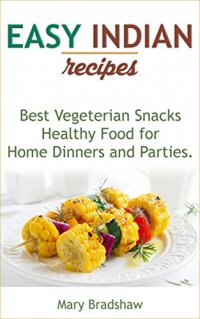 Read on your PC, Mac, smart phone, tablet or Kindle device.
Maybe you are looking for some exotic recipes and new ideas to impress your guests at party. We believe that with our tasty indian recipes ranging from Idli Or Cooked Rice to Pumpkin Flower Fries, you can please every guest at your family dinner or party table.
You'll Learn How to Cook……
Idli Or Cooked Rice

Khatta Dhokla Recipe or White Dhokla

Kala Chana Sundal

Sama ke Chawal ki Idli

Sama ke Chawal ki Idli

Besan Toast

Besan Toast

Aloo Tikki or Potato Fries

Methi Thepla

Sabudana Chiwda

Rice Pakora

Appam Without Yeast

Onion Rava Dosa

Bread Pakora with Stuffed Potato

Eggless Cucumber Cake or Tavsali

Matar Kachori

Brinjal Fries

Cauliflower Fries or Gobi Pakora

Pumpkin Flower Fries

Gobi ke Paratha or Cauliflower Tortillas
Download your copy today!
Take action right away and get prepared for culinary discoveries with the book "Easy Indian Recipes: Healthy Food for Home Dinners and Parties, Best Vegeterian Snacks, Asian Party Food Ideas, Delicious Appetizers for Children and Adults" for only $2.99!
© 2014 All Rights Reserved !
Tags: indian cuisine, indian recipes, easy indian recipes, healthy food, vegeterian, snacks, asian food, party food, party at home, ideas for parties, appetizers, cooking for children, idli, dosas, pakora, asian cuisine.