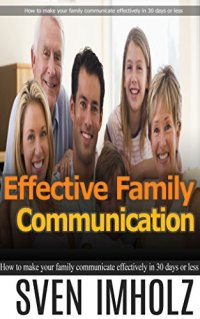 How to make your family communicate effectively
Today only, get this Amazon bestseller for just $2.99. Regularly priced at $4.99. Read on your PC, Mac, smart phone, tablet or Kindle device.

You're about to discover how to have effective family communication. Most families are not communicating or their communication could be improved dramatically. Most people don't even know that they are not using the most effective way to communicate and how to have a happier family. This book will help you and your family in the right direction in becoming the family that everyone looks up to.
Your family will be happier, closer and more stress free than ever before. It will help you create more memorable events and have more fun together. This book will show you steps to improve yourself as a parent and how to create a positive family culture.
Here Is A Preview Of What You'll Learn…
How you can be a leader of your child Basic communication skills you and your children should knowHow to create a positive family cultureMuch, much more!

Download your copy today!

Take action today and download this book for a limited time discount of only $2.99! It will definitely improve how your family communicates and interacts with each other. And it's fun too!
Tags: Family, Family Communication, Communication, Parenting, Leadership, Family culture, Culture, Meetings, Relationships, Family Relationships