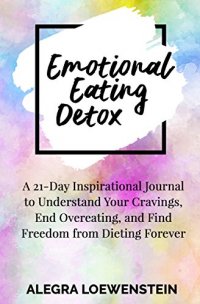 In just 5-10 minutes per day you can discover your emotional eating triggers and your unique secret to easily overcoming them. This guided journal is designed to go beyond counting calories to allow your intuition to be your guide. You can lose weight easily, achieve your ideal weight, and eat your favorite foods without starving yourself.
If you struggle with overeating, if you find yourself craving food, if you are in binge eating recovery, if you feel you have a food addiction, then this weight loss detox is just what you need! Get in touch with the reasons behind the struggle, so your guilt around what you eat melts away.
This weight loss inspiration journal will explore your mind over eating, because you won't be focusing on the weight loss detox until after you've done the emotional detox. If you are ready to experience freedom from emotional eating AND freedom from dieting, this self-help workbook is just the thing you need.
By turning your focus to your heart, and letting go of counting (carbs, protein, fat, points), you can lose weight eating all the delicious foods you love with no guilt. Through this simple approach, you will create a foundation for a lifetime of joyous eating, with no restrictions and never starving yourself, so you truly Love Every Bite!