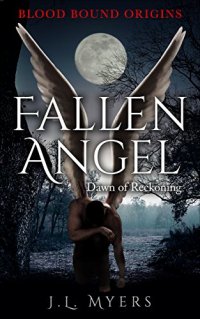 Darkly romantic. A dangerous new paranormal thriller for fans of all things supernatural.
Centuries ago a war between Heaven and Earth battled on…
Lucifer was struck from Heaven and banished to Earth to live as a mortal…but he'll never be fully human, and he'll never let go of his rage against the one who shunned him. God will regret turning his back on him, and his precious humans will pay with their humanity.
Despite the horrendous crimes Lucifer commits, archangel Gabriel refuses to lose faith in him and the man she knows he truly is. Now others want to use her against him…but will she be his downfall or his savior?
A tale of unquenchable rage, deception, and eternal love.
A paranormal angel, vampire novella.
Other Books By J.L. Myers
Blood Bound #1 – What Lies Inside – http://amzn.to/1PFidOCBlood Bound #2 – Made By Design – http://amzn.to/1MWAohjBlood Bound #3 – Web Of Lies – http://amzn.to/1PFhUTXBlood Bound #4 – Born To Die – http://amzn.to/2gHbxkW
"Gripping, "utterly heart-wrenching, and completely suspenseful all at the same time"
Next Big Book Thing – Melody Armstrong's review of What Lies Inside ?????
If you love paranormal romances, uban fantasy, angels, vampires, demons, bad boys with soul, and never-surrendering love, then join the thousands of readers who've fallen for J.L. Myers' Paranormal Romances with Bite and grab your copy of Fallen Angel today!