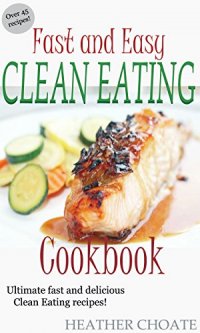 Free on 7th - 11th Jul 16



or borrow free on Kindle Unlimited.
No reviews yet.
Fast and Easy Clean Eating Cookbook: Over 45 fast and delicious clean eating recipes
#1 AMAZON BESTSELLER
Eliminate Fad Diets and Embrace the Sustainable Clean Eating Lifestyle
Clean Eating is a positive lifestyle change that works. The Clean Eating Cookbook & Diet will change the relationship you have with food. Unlike a standard diet that you follow to reach a short-term goal, Clean Eating is a common sense strategy to achieve permanent and lasting good health, without depriving yourself of flavorful food, or feeling guilty after every meal. With a Clean Eating plan, you will understand which foods will be the best fuel your own body, and learn how the right kinds of food will allow you to feel more energetic than ever before.
The Clean Eating plan does not require you to eliminate whole food groups or starve yourself. Clean Eating is about a lifetime of enjoying natural, unprocessed foods that taste good and nourish you, paving the way to a stronger, fitter body and mind.
Author Heather Choate is a mom of 6 and current breast cancer-fighter. She shares her experience and inspiring commitment to bettering her health and that of her family's. You can do it too!
If you want to:

• Shed those extra pounds once and for all!

• Look your very best, regardless of your age and your current physical condition.

• Have INCREDIBLE energy!

• Boost your immune system: we're talking less sick-days, decreased dependency on medications, and better over-all health.

• AND, feel amazing inside and out…
Then this recipe book is for you!
Now, I'm going to warn you, what you learn here may shatter everything you've previously thought about weight-loss and nutrition. Clean eating is returning to the foods nature provides. This flies in the face of western fast-food, convenience, and processed diet! I promise it is worth it!
You're going to:

• Finally take control of your eating habits.

• NEVER be hungry or deprived again.

• Eat delicious foods that your body will actually crave.
I'll teach you how to:

• Make clean meals fast with little preparation

• Implement clean eating into any lifestyle

• Find out how EASY and AFFORDABLE it is to eat clean!
Don't miss your chance to grab this delicious and easy recipe book! Scroll up and add this valuable resource to your cart for just $2.99, usually priced at $4.99!
Tags: Clean eating, fast and easy clean eating cookbook, clean eating cookbook, clean eating recipes, easy clean eating recipes, simple clean eating recipes, fast clean eating recipes