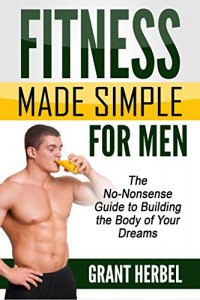 Free on 8th - 12th Jan 16



or borrow free on Kindle Unlimited.
No reviews yet.
The hardest thing about getting the body you've always wanted is often simply… getting started. It can be frustrating, really. You want those bulging biceps, that glorious six-pack, those giant quads, but where do you begin? There is an endless supply of options that guarantee results, but how in the world can you make those options work for you?
Fortunately, that's all about to change.
In Fitness Made Simple, I'll show you how you can get a head start on all the stuff it took me years to figure out on my own, all free of condescending jargon and useless filler.
In Fitness Made Simple, you'll learn:

– How to find lift more effectively with the one-repetition max

– How to target your goals and demolish them

– The importance or progressive overload

– The significance of macronutrients and their role in your diet

– How to get the most out of every workout and maximize your results

– How I met my own fitness goals

– And even more, all natural and gimmick-free!
If you want to build muscle in the quickest, most effective way possible and just can't quite figure out how to get there, this is the book for you.
Through practical guidelines, I'll show you how I went from scrawny and overweight to ripped and how you can achieve the same results.
But make no mistake, fitness is not a fad or a quick solution; it is a mindset. With this book, you can begin to effectively set your goals, make a plan, and stick with it. So what are you waiting for? Download the book today and get a jump-start on the rest of your life.