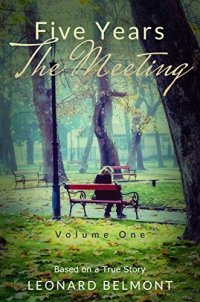 Do you remember when you knew you were falling in love?
Do you recall the thoughts, feeling and emotions you experienced when falling in love?
We have all read or heard love stories at one point or another, but this one is very different.
In this contemporary romance, author Leonard Belmont and his automatic writing takes us on an emotional journey into the lives of a young couple from the moment they lay eyes on each other.
In this first novel you will meet a young man who has decided that he had found the girl of his dreams.
As they exchange their first glance their eyes lock with sincere understanding, unveiling words simple yet meaningful;
The symbolism that surrounds their initial encounter reflecting their lives together.
What starts with a lucky encounter during their college years ends up shaping their future together.
Seemingly starting their love life at the end of it all, Belmont's unique writing opens the mind to what true love is about.
Beginning with the end of their life together, these unique writings open up our minds and our memories of what love is really all about.
It's an emotional plunge that the author takes here to deliver this lane of inner thoughts that bloom in his memory.
The author takes a very emotional trip down memory lane with the inner most thoughts and emotions felt during those intimate moments when love is blooming..
˃˃˃ A Highly Poignant Read
The first in a series of novels by Leonard Belmont, Five Years is a beautifully written love story about the love lives of a young man and the girl of his dream
˃˃˃ Beautiful imagery and artful technique
This book is written more like the works of the romantic poets or of the writer's during the renaissance.
˃˃˃ Simply brilliant
I'm simply amazed at how much I enjoyed this story