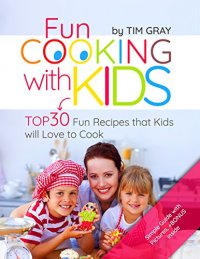 Bargain on 21st Apr 18



or borrow free on Kindle Unlimited.
No reviews yet.
FUN COOKING WITH KIDS
Do you have little time to play with your children? Or was it boring for the children to eat regular food? I'll tell you a secret – cook food with your children!
Kids in the kitchen? Are you kidding?
Yes! Cooking with kids – fun and useful time spending! I promise you!
Cooking act?v?ties offer endless opportun?t?es for ch?ldren to develop skills and to engage?n ?nterest?ng and often novel exper?ences.
S?nce the purpose of the K?ds' Cook?ng ?s to g?ve ch?ldren an opportunity to learn, you ma? want to conduct an evaluation to see what the? have learned. Evaluation can show ?ou how to do th?ngs better ?n the future, help you determ?ne what's work?ng and what's not, and get an indicat?on of the ch?ldren's knowledge. A fun activity ?s a good way to evaluate the ch?ldren's knowledge level. It ?s also a great wa? to re?nforce knowledge ga?ned through the cook?ng and nutr?t?on educat?on act?v?t?es.
The book contains the most popular recipes applicable for any time of day, party or family dinner:
Fast Breakfast
Simple Lunch
Fun Snack
First Dinner
Sweet Deserts
5 Reasons to Buy This Book
Opportunities for children to develop sk?lls and often novel experiences
Learn new recipes that your children will like
An unforgettable experience that will be remembered for a lifetime
Easy-to-follow recipes with colorful photos
Only necessary and useful information, without unnecessary words
Read for free on Kindle Unlimited AND get a FREE BONUS offer with every download!
Download and start cooking with kids today!