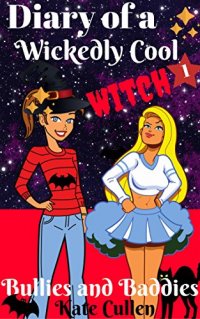 Funny and cool book for middle-grade girls and teenagers, about a good-hearted witch who deals with the problems of teenage life in an unusual and humorous way.
What is the most humiliating and embarrassing thing a school girl could ever experience? Think of the most embarrassing moment you've ever encountered at school, and double the embarrassment; triple it in fact!
In this wickedly funny chapter book for middle grade girls, Lily, the headstrong but adorable witch goes head to head with the schools meanest cheerleaders in a bid to stamp out bullying. But helping others sometimes means missing out on what you really want? What is the one thing Lily really wants and can she get it and still save eighth grader, Kaitlyn, from the most embarrassing catastrophe a schoolgirl could ever imagine? It's one of the most difficult decisions she's ever had to face, and the consequences could affect Kaitlyn and Lily terribly for the rest of their school years.
Diary of a Wickedly Cool Witch touches on the notion of bullying, self-image, standing up for yourself, caring for your friends and being an individual, in a light hearted, humorous way. It will make you laugh and cry as you follow Lily's plight to rid the school of bullies, try and make the cheerleading team and learn how to hold a boys hand without making a complete dork of herself, all in the one week.