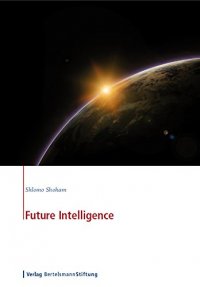 As the pace of change has grown more rapid, an emphasis on survival and short-term thinking has increasingly pervaded the realm of leader- ship and political decision-making. In a bold response to this problem, the Israeli Knesset established the Commission for Future Generations and appointed the former judge, Shlomo Shoham, as head of the Com- mission in 2001. Shoham was tasked with the difficult work of representing the needs, interests and rights of those not yet born. Drawing upon his legal and political experience, Shoham today demonstrates how we can overcome the pitfalls of short-term thinking by developing our "future intelligence." This kind of intelligence, he argues, is the key to infusing public administration with visionary thinking and creative foresight.
Endorsements:

From Shimon Peres, President of the State of Israel

In his book Future Intelligence, Judge (ret.) Shlomo Shoham provides a practical model on how to enhance sustainability in government and policy-defining bodies to serve the future of mankind and nature in a changing planet. Future Intelligence turns to the decision-makers of today to break away from the conservative outlook and adopt a long-term vision for posterity.
From Horst Köhler, former President of the Federal Republic of Germany Shlomo Shoham presented the work of the Commission for Future Generations at the First Forum on Demographic Change of the former German President in 2005. For President Horst Köhler and other participants,

Shoham's conceptual contributions proved immensely valuable in helping lay out new means of dealing with the fundamental challenges facing all countries, including Germany.