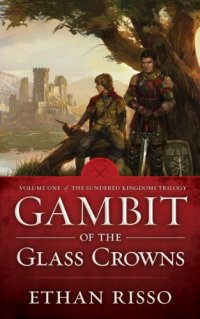 The heart of any great fantasy novel has always been the characters, and the heart beats fierce and free in volume one of Risso's THE SUNDERED KINGDOMS TRILOGY, Gambit of the Glass Crowns, a tale of conspiracy, adventure, magic, and romance.
Bled dry by decades of war, religious strife, and bloody political intrigue, the land of Dweomer is changing. At the heart of the tumult is Connor, the unwitting harbinger to the end of an era and doomed to die before his time.
From the chivalrous royal court of the high king to the sacred forest enclave of Arlais, Connor must find his own part to play on the mummers' stage, just as Gawain, the duke's renegade bastard son, and Bronwen, the ambitious young queen, navigate their own ways through the tempest. With so much hanging by a thread, the stage is set for the final act of a dying age.