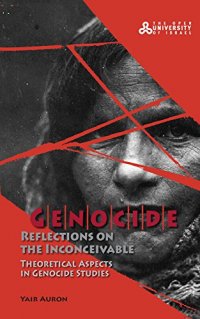 Free on 7th Mar 15


No reviews yet.
This book appears to be unavailable on Amazon.co.uk at the current time. If this is incorrect, please let us know here
Genocide is a serious crime in which people kill other people solely because of

their belonging to a national, ethnic, racial, or religious grouping, unrelated to any

personal charge of wrongdoing on their part. This book explores the concept of

genocide (as well as other distinct but related concepts, such as hatred, politicide,

democide, and ethnocide), the difficulties in defining the term, and the debates that

surround it. It also considers some of the theories and typologies that attempt to

explain the acts of genocide that continue to be perpetrated even after the Holocaust

and that have thus far taken the lives of millions of innocent people.

Reflections on the Inconceivable: Theoretical Aspects in Genocide Studies is part

of the series Genocide, which offers a comprehensive exploration of the subject.

Each volume constitutes an integral component of this larger endeavor, but also

stands alone in its own right.

Titles in the series include:

● Arnon Gutfeld, Genocide in the "Land of the Free": The Indians of Northern

America, 1776-1890

● Eitan Ginzberg, Conflictual Encounter: The Destruction of the Indian Peoples

of Spanish America

● Yair Auron, The Armenian Genocide: Forgotten and Denied

● Ariel Hurwitz, Hurban: The Destruction of the Jews by Nazi Germany

● Benyamin Neuberger, Rwanda 1994: Genocide in the "Land of a Thousand

Hills"

● Israel Charny, "And You Shall Destroy the Evil Inside of You": We are the

Human Beings who Commit Holocaust and Genocide

● Gilad Margalit, Nazi Germany and the Gypsies

Professor Yair Auron, author of this book and editor of the series, is a lecturer on

genocide, genocide education, and contemporary Jewry at the Open University of

Israel. He has published numerous books and essays on these subjects in Israel, USA and Europe.