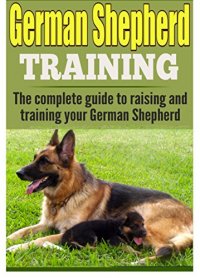 German Shepherd Training: The Complete Guide To Raising and Training Your German Shepherd
Today only, get this amazingly informative and very popular book on German Shepherd Training for just $2.99. Regularly priced at $4.99. Read on your PC, Mac, smart phone, tablet or Kindle device.
As I'm sure you know, each dog breed is unique, and the German Shepherd is no exception. The German Shepherd is among the most popular of all breeds, most likely for its loyalty and courage.
German Shepherds are the most employed dog in law enforcement around the world. They are chosen for their strength, intelligence, courage, and loyalty.
Returning American servicemen spokes accolades of the breed after WWII and since coming to America the German Shepherd has since become the number two breed registered in the American Kennel Club (AKC). The breed is great around children, very protective, and are easy to train.
But most owners don't realize how much attention, training, love and firm guidance is needed to get their dog to develop these characteristics. Wouldn't it be nice knowing that your dog is perfectly happy and healthy because you know exactly how to exercise, socialize and feed your dog?
This book is packed full of sensible and easily accessible advice about all aspects of German Shepherd ownership; the history of the breed, breed standard, considerations prior buying a puppy, the GSD friendly home, house training, diet, care, socialization and training guidelines, control, the ideal owner, health care and inherited health problems.
Don't you owe it to yourself and your new German Best Friend to get the information you need to establish the best relationship possible?
When your done reading this book you will have a detailed understanding of your German shepherd's daily needs, adaptability to training, physical and personality traits, specific strengths and weaknesses, ability to learn, susceptibility to health problems, and more.
Here Is A Preview Of What You'll Learn…
The 3 required qualities you must have for raising a GSD.Discover what effects and consequences the popularity of the German Shepherd Dog has caused.Is the German Shepherd right for YOU? Here are the 3 most important things to consider before settling with this breed.How to find and choose the right German Shepherd for you.The one place you should avoid getting a German Shepherd Dog from. What to think about if you're planning to adopt an adult German Shepherd. When to feed your GSD and how much.Which treat to never give your GSD – It can cause fatal seizuresHow to housebreak your German Shepherd, quickly and easily.Much, much more!

Download your copy today!

Take action today and download this book for a limited time discount of only $2.99!
Tags: German Shepherds, German Shepherd training, German shepherd books, Dog training, Puppy training, German Shepherd dogs, How to train your dog