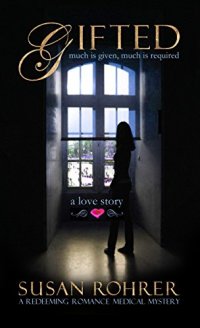 Will following her heart mean denying her dreams?
In this Christian Medical Mystery, a gifted young neurologist, Lily Lapree, embarks upon her residency in the teaching hospital where her late father practiced. Longing to try her wings outside the insular nest, the position hadn't exactly been Lily's top choice, but the hometown hospital has its perks. Best of all, they'll help mainstream her live-in sister, Raina, who has special needs. In response to Lily's promise to keep tabs, they'll add "Rainy" to their janitorial staff. Though legally an adult, Raina is still childlike as she starts her first job within the wing unofficially known as the Belfry.
Back-to-back revelations have Lily reeling on Rainy's first day. For starters, a late-breaking offer comes in for Lily from that far more prestigious, first-choice hospital. Next, Lily discovers their widowed mother, hospital counsel Claire Lapree, plans to remarry come Easter. Still grieving the father she adored, Lily is hardly ready for her mom to move on–much less with her boss, the chief of neurosurgery. Top if off with Lily's struggle to fend off the pursuits of her best friend's unrequited crush–an unsettlingly attractive fellow resident–and it doesn't look like family dynamics or workplace relationships could get much more complicated.
All the while, Lily wrestles to understand the mind of an enigmatic new patient, a boy plagued with disturbing visions he claims are from God.
Though Lily's mother implores her to stand by her initial commitment at the Belfry, Lily can hardly ignore what the world-class, out-of-state hospital has to offer. Would it be so wrong for Lily to accept the job she'd always dreamed of, the one her beloved father had always wanted for her? It's a seemingly impossible choice. Torn between obligation, guilt, aspirations, and romance, Lily embarks on a journey to unlock the mysteries of her own heart and soul.
With life so consumed with work and family, will Lily's choice lead to finding love and romance?
REDEEMING ROMANCE is an anthology series, a collection of clean, inspirational love stories based on Susan Rohrer's screenplays. GIFTED: a love story is the sixth stand alone novel in this romantic women's fiction series, a contemporary Christian Medical Mystery. Gifted tracks complex, shifting roles in mother and daughter and adult sibling relationships. This hospital drama explores the lives, loves, and challenges of three women in the same workplace: the gifted and talented neurological resident Lily, Lily's mainstreamed sister Raina, who has special needs following traumatic brain injury, and their mother–widowed hospital counsel, Claire Lapree.
Click above to start reading GIFTED: a love story today!