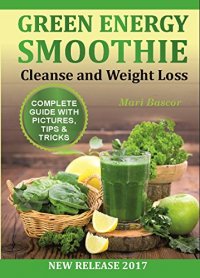 This book will be Free on 20th - 21st Nov 17
Set a Reminder:
Google Calender - Yahoo Calender - Live Calender
---
Green Energy Smoothies 38 Recipes Cleanse and Weight Loss
Looking for a fast and easy way to boost your health? Go green!
 
Green smoothies are flavorful drinks packed with disease-fighting vitamins and antioxidants. With The Green Smoothie Recipe Book you'll be able to improve the way you look and feel by replacing unhealthy high-calorie foods with nutrient-packed green smoothies. Just by adding a regular green smoothie to your diet, you'll be able to lose weight, fight disease, and increase your energy. The Green Smoothie Recipe Book will show you how to optimize your health with  38 fast and easy green smoothie recipes. 
 
Enjoy 38 Healthy and Delicious Smoothies!
This Book Offers So Many Amazing Recipes to Choose From!
With Green Energy Smoothies: 38 Recipes Cleanse and Weight Loss , you'll learn everything you need to know to prepare a wide variety of smoothie recipes.
Among the 38 Tasty Reasons to Buy this Book, you'll discover:
Green, Sweet and Pear Smoothie
Green Life Smoothie
Workout Smoothie
Kale-cum Smoothie
Spinach with Ginger Fun
So if you have been looking for an easy and convenient way to lose weight, increase energy and detox, then this book is everything you need! After reading this book, you'll know absolutely everything you need to know to get started.
Hurry! Download Smoothies: 38 Smoothie Recipes to Lose Weight, Increase Energy.
Scroll up and click "Buy now with 1-Click" to download your copy now!
© 2017 All Rights Reserved !
Tags: Green Smoothie,  Green Smoothie Cookbook, Energy Smoothie