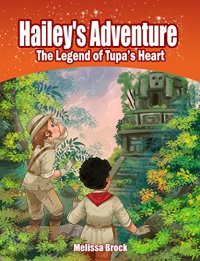 Free on 25th - 29th Apr 16



or borrow free on Kindle Unlimited.
Top - Reviews - Update Details
Hailey has been given a book from her Grandfather Tom it has stories of hidden treasure and maps. One of them is about the Legend of Tupa's heart. Her grandfather would often tell her stories about all the treasure hunts that he went on, and the treasure he would find. Hailey wanted to follow in her grandfather's footsteps and become a treasure hunter too.
Hailey's grandfather was taking another trip, she begged for her and Milo ( her best friend) to come along this time, he agreed as long as they stayed out of trouble. The trip was to a church in a small town, Hailey recognised the name of the town and knew it was close to the book she had read on The legend of Tupa's Heart. While Tom was investigating the church, Hailey and Milo took the opportunity to see if the legend was real.
Children will love this book to read or have it read to them. The moral to the story at the end is a learning experience for all children.