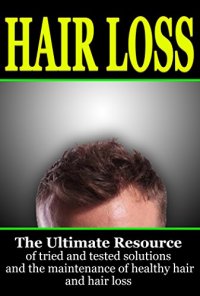 Hair Loss: The Ultimate Resource of Tried and Tested Solutions for Hair Loss and the Maintenance of Healthy Hair
Read on your PC, Mac, smart phone, tablet or Kindle device.
Hair loss affects millions of people around the world. Whether gradual or sudden, loss of hair can be damaging to morale, self-esteem, confidence and it may also be an indication of your current state of health.
As someone who has been experiencing hair loss since his early twenties, I have tried and tested many products on the market, chemical and natural, that reduce hair loss and encourage re-growth. The solution however doesn't just end there. There are many other factors in life that can contribute to loss, growth and the maintenance of healthy hair.
This resource will help you understand the cause and also provide numerous hair treatments that I and millions have tried with effective results. This has been a long personal journey of trial and education. When something such as hair loss is affecting you, time matters and we all wish for an immediate solution. Save your time, save your hair and read this.
Hair loss is no longer a concern for me, neither is the chore of daily treatment when you have the knowledge of what works.
Contents
IntroductionChapter One: Hair LossAlopecia areta and Androgenetic AlopeciaChapter Two: Food, Diet & ExerciseAndrogen HormonesExerciseDietThe ThyroidFoods That Can HelpChapter Three: Hair Products for loss, growth, health and styleAlpecin Caffeine ShampooNizoral (Dandruff Shampoo)ConditionerOils (e.g. Amla oil)Regaine or Rogaine (Minoxidil)Minoxidil SolutionStyling ProductsVichyChapter Four: General Hair Well-Being and StimulationLaser CombScalp MassagePropecia (Finasteride)Saw Palmetto ExtractShower FilterChapter Five: The UntestedHair TransplantFinal notes
Download today!
Tags: hair loss, hair loss cure, hair loss treatment, hair loss solution, hair loss for men, hair loss for women, hair loss prevention, regrowth, hair Loss book, alopecia, exercise, diet, health, alpecin, nizoral, regaine, rogaine, minoxidil, laser comb, propecia, finasteride, saw palmetto extract