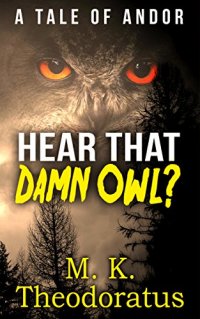 Crayton's foul mood builds as he travels home at his mother's bidding until he crosses a spirit owl seeking revenge.
What if the old folktales were true?
If you enjoy old Twilight Zone episodes or have felt your heart pounding in your chest during an Alfred Hitchcock movie, you need to read by M. K. Theodoratus's newest tale of suspense.
Crayton blows into a gas stop after his mother summons him home as his brother drifts near death after a car accident. Crayton can't stop wondering why he came back. Was it only to keep his mother from cutting off his inheritance? He instantly regrets being forced to stop at the old service station on the other side of the mountains from home.
Everything about the place, even the people, are old and dying. Crayton's anger and bent for self-destruction come to a head when he spots an owl prowling around the station. An old decrepit storyteller warns Crayton about the dangers of crossing an owl, but the damn owl drives him nuts.
Crayton takes his anger and frustration out on the dive-bombing owl. When strange things begin happening, Crayton has to hope it's just his imagination, but he's afraid the old folktales are coming true. Can he escape the wrath of the owl?
M. K. Theodoratus has nine published works, with more on the way. She has always felt magic and fantasy were apart of her life. She specializes in captivating long-form short stories, what Kindle calls "short reads".