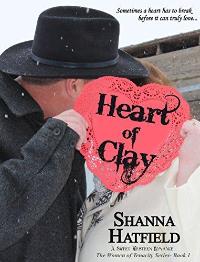 Have you ever kept a secret?
Deception wars with love in this sweet contemporary western romance.
Strong-willed, successful and determined, Callan Matthews lives the facade of a happy, wonderful life. Unfortunately, unbridled chaos runs amuck in the deep, dark places of her heart as she struggles to keep herself together. Her once beloved husband, Clay, tugs relentlessly at the last few threads keeping her from completely unraveling. His laid-back attitude only serves to drive her further away instead of drawing her back into his arms.
Easy-going cowboy Clay Matthews is a respected college professor. He's the man family and friends turn to for help, or when they need a good laugh, since he's a huge tease and practical joker. Life would be almost perfect, except for his relationship with his wife. Clay is completely baffled by Callan. He thought he knew everything there was to know about this woman but she's turned into a mystifying female he barely understands. He'd give just about anything to recapture the feelings they used to share, but she seems to want no part of it.
Just when he decides to get to the root of the problem no matter the outcome, he discovers a secret she kept from him that's too painful to bear and too big to forgive. Will their love be strong enough to withstand a revelation that could rock the foundation of their marriage?
The Women of Tenacity Series
Heart of Clay (Book 1) – Will love be enough to overcome deception and betrayal?
Country Boy vs. City Girl (Book 2) – A confirmed city girl finds herself falling for a wanna-be country boy. Sparks fly as a battle of stubborn will ensues.
Not His Type (Book 3) – Sometimes what we think we want couldn't be further from the truth…
??? Excerpt:
Knowing she should pull away and put distance between the two of them, Callan couldn't muster the will to do it. It felt too good to have Clay's arms around her, to sink into his strength and breathe in the wonderful scent of him.
She couldn't fathom what had gotten into him. She wondered if he realized when he kissed her like that it turned her knees to a gelatinous mass and made her as giddy as a schoolgirl. If he didn't behave himself, she was going to have a hard time keeping the lid on her box of churning emotions.
Clay had no intention of behaving himself. Taking Callan's shoulders in his hands, he turned her around and gave her a deep, passionate kiss that left them both breathless and undone. With determination set in his jaw, he reached over and tugged the clip out of her hair, tossing it onto the nearby table. Gently, he ran his hands through her hair, letting it fall down her back and over his arms.
Taking a step back, he stood and drank in the sight of her. "I haven't seen your hair down for a while. It's beautiful and so are you."
Scroll up and grab a copy today!