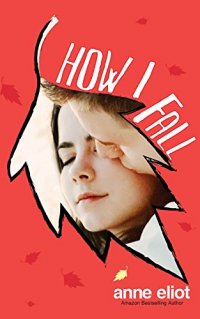 Free on 16th Oct 19



or borrow free on Kindle Unlimited.
No reviews yet.
A two-book series by the bestselling author of Almost and Unmaking Hunter Kennedy.

Book 1 in the How I Fall/How I Fly series.
WHAT IF YOU HAD AN IMPOSSIBLE CRUSH?

Impossible because she's Ellen Foster. The beautiful, smart, and possibly fragile photography-girl. You're Cam Campbell. The guy who plays football 24/7 with no life. But what if during junior year, you decide to finally try for her phone number—until this glitter-crazed new girl ruins your plan. Worse, the girl is Irish, awkward, and insists you and Ellen should become best friends—with her! Only, you don't want to be friends with a human tornado, and you think Ellen might need to stay a crush. This is because after one interaction you've discovered Ellen Foster really is fragile. Your problems and secrets are too big for anyone to understand.
WHAT IF YOU COULDN'T RESIST?

But what if the three of you wind up assigned to a group photography project, where rumors are already circling about the new girl being ridiculous? You know she's nice but very alone, so you convince your crush to help protect the new girl. Suddenly, working on the project makes hanging out, texting, talking—and even high school—seem fun and completely normal when it's anything but normal.
WHAT IF YOU KISS?

What if you kiss Ellen Foster and it's perfect enough to make you believe in things you shouldn't. You tell her secrets and share your dreams. You make the kinds of promises and create plans to be together that might be impossible to keep when you're only sixteen and your parents control your entire future, but… WHAT IF YOU HURT HER?
Editorial Description:

How I Fall, is the first book a two book series, ending with: How I Fly. It can be a stand-alone story, but it's recommended this book be first. The series is about friendship, boyfriends, taking risks and first love. There's a photographer heroine who has left-sided cerebral palsy–she falls for a football jock with problems of his own.