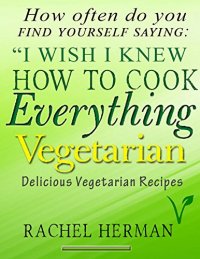 Free on 27th Feb 17 - 3rd Mar 17



or borrow free on Kindle Unlimited.
No reviews yet.
How often have you found yourself saying 'I wish I knew how to cook everything vegetarian?'
It has probably happened more often than you think and the reason that many people don't turn to a healthier vegetarian diet is often because they have little imagination when it comes to cooking vegetarian meals.
But there is some help available, in the form of this great new book which will help you get the most from a vegetarian lifestyle.
Vegetarian Cookbook: Delicious Vegetarian Recipes,comes complete with dozens of recipes for:
Filling breakfasts
Quick and easy snacks
Healthy brunches and lunches
Dinners
Desserts
Dips and sauces
And a whole lot more…
You will never be stuck for a vegetarian meal idea ever again. And with each recipe coming with clearly laid out instructions, a list of the ingredients you'll require and a great colour photograph, you'll be able to make stunning dishes in no time.
Choose from preparing everyday meals to exciting chick pea pancakes, butternut squash linguini or mushroom pizza, for those more unusual and jaw-dropping creations.
Download Vegetarian Cookbook: Delicious Vegetarian Recipes now! Your family will love the food you'll be preparing and your health will improve as well.