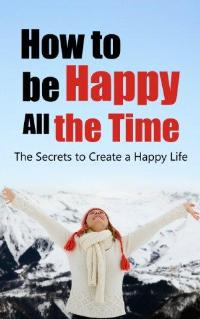 Discover the Proven Steps and Strategies on How to be Happy Forever and Maintain Happiness in Your Life
Today only, get this Amazon bestseller for just $0.99. Regularly priced

at $4.99. Read on your PC, Mac, smart phone, tablet or Kindle device.
Happiness is important because it helps you live your life to the fullest. If you are not happy, then how will you be able to enjoy the things that life offers you and appreciate the love from the people around you? In short, when you are happy, you can function better in your environment.
More and more people become depressed these days because of so many different reasons including the pressure and stress that life brings. Another reason can be the lack of a strong connection with other people which can lead to depression. When a person feels stressed and pressured with life, he or she needs someone to talk to or ask help from. If he or she does not have that strong connection with others, then he will have the feeling that nobody will be at his side in times of trouble. Depression can lead to so many drastic consequences including suicidal thoughts.
Some people become depressed too because of the lack of realization that there is more to life other than the bad things that happened to them. These people lack support from the people around them. They lack encouragement and help from others that is why they feel alone and tend to commit suicide.
This book can definitely help you see the importance of finding your happiness and know how to maintain that state of mind everyday for the rest of your life. It can help you open your eyes and appreciate the different possible sources of happiness around you.
Here Is A Preview Of What You'll Learn…
What is Happiness
How to Find Happiness
Steps on How to Maintain Happiness
Why We Should be Happy
Take action right away to create and maintain happiness in your life by downloading this book "How to be Happy All the Time" for a limited time discount of only $0.99!

Download your copy now!