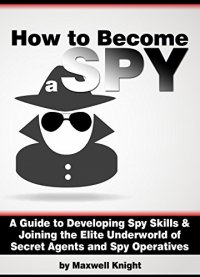 Free on 27th Feb 20



or borrow free on Kindle Unlimited.
No reviews yet.
If you're ready to learn how to become a spy and improve your tactical skills, then this book is for you!
Read on your PC, Mac, smart phone, tablet, or Kindle device.
Despite their very purpose of lying low and going unnoticed, the Spy has become quite a popular figure in our society. Thanks to big screen icons like James Bond and his peers, the life of a spy is coveted by many a starry-eyed child due to its glamorous, jet-setting, and fast-paced lifestyle. Make no mistake, however; the life of a covert agent isn't all fancy cocktail parties and swanky black outfits. Becoming a spy requires rigorous training and a lifetime of dedication. Only "the best of the best" get selected to go on high-stake missions overseas to gather information in service of their country. Even with their top-notch qualifications, spies rarely if ever get a glimpse of the fame and fortune depicted in movies. As the mere concept of a spy entails, their job is to be unseen and unheard.
If being the unsung hero or the dark knight of your country appeals to you, then you are on the right path. Becoming a covert operative will be grueling work, no doubt, but with this guide's help, you might just be on your way to becoming one of the elite who serves justice in the shadows. And even if you decide this lifestyle isn't for you, at least you'll pick up a few spy skills that may come in handy some day. Let's get started!
Here Is A Preview Of What You'll Learn…
The Inaccuracies of Spying Portrayed by Popular MediaThe Basic Qualities Necessary for a Covert OperativeMethods and Techniques for Shadowing and TrackingGetting Your Physical and Mental Acumen Up to ParBasic Field Skills to Be a SpyHow to Get Hired by Intelligence AgenciesMuch, much more!Download your copy today!