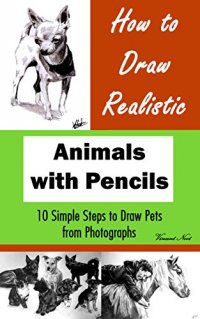 Free on 17th - 21st Mar 15


No reviews yet.
This book appears to be unavailable on Amazon.co.uk at the current time. If this is incorrect, please let us know here
Learn how to draw beautiful animals and pets from photographs in 10 easy steps!

I've been an artist for about 10 years now, so I have lots of experience. I have earned thousands of dollars doing what I like to do drawing people and animals. People have asked me to draw their dogs, cats, and horses. I went to Art University in Gent, Belgium, and I learned how to draw realistic animals.

But I will tell you this: YOU DON'T NEED TO HAVE TALENT TO DRAW. All you have to do, is practice, be exact, and follow the right steps. There are techniques that everyone can apply. It's mostly about knowledge. In this easy how-to program I will show you some of the secret tips that will improve your animal drawings and help you create pretty animal drawings from photographs.
Learn simple steps about the basic techniques of drawing animals from photographs.
Find out about secret trips to speed up your process.
See how you can improve on precision and quality.
Become excellent at creating pencil drawings of animals.
Keywords: Realistic animal drawing, draw realistic animals, draw realistic pets, drawing realistic pets, drawing realistic animals, animal portraits, steps to draw pets, steps to draw cats and dogs, steps to draw horses, pencil portraits of animals, pencil drawings, draw in pencil, how to draw animals, how to draw with pencil, how to draw realistically, how to draw pets, draw animal portraits from photographs, drawings from photographs, draw animals from photographs, draw pets from photographs, realistic drawings from photographs, realistic animal drawings, simple drawing steps, tips for drawing pets, tips for drawing animals, drawing techniques, art techniques, get better at drawing, become better at drawing, pencil sketching, sketching realistic animals, sketching realistic pets, realistic sketches, how to pencil sketch, sketching with pencils, realistic pencil sketching, how to draw better, how to draw animals better, how to draw pets better, better animal portraits, portrait sketching, portrait drawings, portrait drawing book, portrait sketching book, pencil sketching book