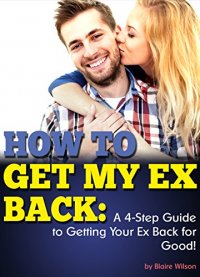 Free on 23rd - 27th Mar 19



or borrow free on Kindle Unlimited.
No reviews yet.
If you want to win your ex back for good in just 4 easy steps, then this book is for you!
Read on your PC, Mac, smart phone, tablet, or Kindle device.
While there may be hundreds of thousands of people who somehow stumble onto ways to get back with their exes through seat-of-their-pants plans, a significantly higher percentage do not. Why? It's because they choose to wing it, and listen to every half-baked instinct in their head (well, strictly speaking, more from a wounded heart.) One thing that any soldier would tell you is that instincts coming from an emotional place in times of turmoil do not go down well. It's the sole reason why armies spend so much time replacing natural instincts with conditioned ones so that their soldiers don't, metaphorically and literally, shoot themselves in the foot when the chips are down. The good news is that I'm here to help you get your ex back. If you'll follow my advice, that is. Cheesy though it may sound, if you're ready to be a soldier of love (and on the winning side), then let's initiate this operation 'get-back-together' already!
Here Is A Preview Of What You'll Learn…
Evaluating Your Chance of ReconciliationThe Four Stages of Getting Your Ex BackBraving Stage One – Zero ContactPlanning Stage Two – Primary ContactWinning Stage Three – Prolonged ContactSetting Up Stage Four – Get Back TogetherMuch, much more!Download your copy today!