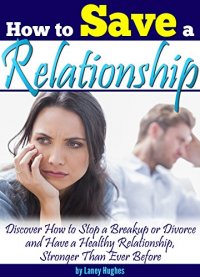 Free on 23rd - 27th Mar 19



or borrow free on Kindle Unlimited.
No reviews yet.
If you feel like your relationship is skating on thin ice and you're ready to repair and stabilize it, then this book is for you!
Read on your PC, Mac, smart phone, tablet, or Kindle device.
It's always fun to reflect back on how you and your significant other first got together. What's not to love about remembering the initial attraction and your first dates that were filled with giggles and butterflies? Whether that was a long time ago or fairly recent, it's a large part of the reason you're reading this book right now. Although you or your partner don't feel the same warm loving feelings at the present moment, you want to know if it's possible to get them back, and if so, then how? Things happen in a relationship that causes the positive emotions such as 'attraction' and 'respect' to morph into ugly feelings of anger or dislike. And yet in spite of that, you somehow still want to mend and salvage your relationship to bring back those old lovin' feelings. The time, emotions, and the large piece of ourselves that we invest into a relationship can make the thought of a break up really scary and dreadful. It's enough to cause panic or start to do rash, irrational, and ineffective things to try to save the union. This book is designed to help you do better: I'm going to help you mend your relationship with your significant other, stop a break up before it happens, and rekindle the flame you once had when you first met each other. Whether you only want help in trying to figure out if the relationship is even worth saving, or if you want to know how to stop him from walking out the door, let this book be your guide.
Here Is A Preview Of What You'll Learn…
How to Assess the Current Status of Your RelationshipWhat to Do If You're About to Be DumpedHow to Identify and Discuss the ProblemTips for Saving Your RelationshipConsidering a Period of Temporary SeparationHow to Prepare if It's Best to End ItMuch, much more!Download your copy today!