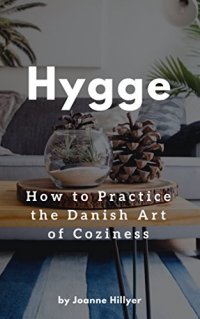 Free on 21st - 25th Nov 18



or borrow free on Kindle Unlimited.
No reviews yet.
Do you want to learn the secret of what makes Danes the happiest people on the planet? Then you need to learn about hygge!
Download this book now and you can start reading it immediately on your iPad, Kindle, eBook reader, smartphone, tablet, PC, or Mac!
Despite the harsh climate and long winter months, the Danes and people from other Scandinavian countries are consistently listed as the happiest people on earth. Now the rest of the world is beginning to catch on to this wonderful, fulfilling way of life. It seems to be come down to the concept of hygge — "hoo-guh" is about as close as you can get to pronouncing it in English. Hygge is a Danish word used to express a feeling of comfort, warmth, coziness, or charm. It also is used to refer to something special.
Hygge is not a thing and doesn't require learning or doing anything exceptional. Hygge can be described as the things that make you sigh contentedly. It is more of a feeling or than an action and more of a mental state than a physical one. It is an approach to life and in its essence it is about harmony. It requires one to slow down, appreciate life, and enjoy being in the present. Normally associated with a social setting, when friends and loved ones gather, hygge also can be enjoyed alone. Hygge is about creating intimacy in our daily lives: with yourself, your friends, your home, and your surroundings. It is an idea that crosses social barriers and has become a part of the Danish national consciousness. By keeping in the moment and staying conscious of the joys of life at all times, the Danes have tapped into a source of happiness that can be a model for the rest of the world.
The Danes view life as art. Using simple rituals such as brewing a cup of tea in the evening, stopping to pick up a bunch of flowers, or just lighting a candle for the evening meal, they employ hygge to stay grounded and appreciate life for itself. By incorporating it into our daily lives, hygge can become a natural extension of ourselves and guides our interactions with the world around us.
In this book I will share with you:
What hygge is
The history of hygge
Spontaneous hygge
Hygge through the seasons
Hygge vocabulary
What hygge isn't
Why the Danes are so happy
How to hygge
Hygge music
Hygge clothing
Hygge in the workplace
And more!
So scroll up and click on the Buy now button to start learning about hygge and how to incorporate it into your everyday life!