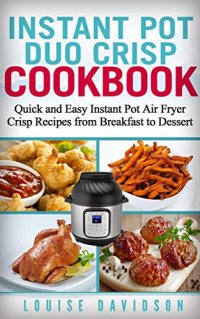 Prepare delicious crispy meals for the whole family especially created for the Instant Pot Duo Crisp
Download FREE with Kindle Unlimited!
The perfect air-fried crust of those juicy ribs beats everything. That delicious fall-off-the-bone feel is simply irresistible. The next generation Instant Pot Duo Crisp is designed for the ultimate convenience to cook fresh and healthy meals at home.
Instead of just one pressure lid, this new model offers cooking convenience with two lids – a pressure lid and an air fryer lid. Now, with just one cooker, you can prepare both pressure cooked and air fried dishes. Not only that, but it also allows you to cook all your favorite baked, roasted, and broiled cuisines with additional cooking functions.
Foods that are air fried with the Instant Pot Duo Crisp are healthy and low in carbohydrates as it uses revolutionary air frying technology that requires less oil to cook foods.
Inside this cookbook, you will find:
all the information you need to cook with the Instant Pot Duo Crisp cooker and its numerous features Delicious recipes for the Duo Crisp from appetizers to dessertsAppetizers and Small BitesCrispy Sausage BitesHot and Spicy Chicken WingsFried Cheesy PicklesFrench Fries with Chipotle MayonnaiseChicken and TurkeyBBQ DrumstickTurkey MeatloafCheesy Chicken TendersOrange Roast ChickenBeef, Pork, and LambRosemary Roast and Potato MealKorean Lamb ChopsStuffed PeppersPineapple Jerk HamFish and SeafoodFish TacosCrispy Coconut ShrimpSeasoned Wild Salmon FilletsVegetarian and SidesTofu Coconut CurryJalapeño Mac and CheeseCorn on the CobRoasted ParsnipsDessertsS?Mores DelightCinnamon Apple Cake
All recipes come with a detailed list of ingredients, number of servings, prep, and cooking times, easy to follow step-by-step instructions, and nutrition facts.
Read on your favorite devices such as Kindle, iPhone, iPad, Android cellular phone, tablet, laptop, or computer with Amazon?s free reading Kindle App.
Scroll back up and click the BUY NOW button at the top right side of this page for an immediate download!