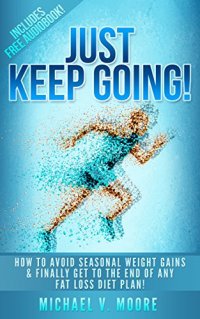 Free on 25th - 27th Sep 16



or borrow free on Kindle Unlimited.
No reviews yet.
How many times have you tried to lose weight and failed?

Did you feel ashamed?

Are you still searching for your perfect fat loss solution?
It doesn't matter if you're trying to lose one pound or a hundred pounds. Whether you're new to fitness or an experienced bodybuilder. We all share one simple thing….
The desire to finish what we started!
This uplifting and inspirational book will motivate you to finally get to the end of ANY fat loss plan.
Read the real journal entries of a person's ambitious journey to lose a few pounds during the holiday season. What was suppose to be simple turned into an unexpected emotional rollercoaster. Learning about the person's everyday struggles will help you identify your own seasonal eating setbacks.
Whether you're an experienced dieter or ready to take the plunge for the first time, reading this book will give you that pal you've always secretly wanted as you try to accomplish your own fitness goals.
While reading this book, you will have renewed confidence in yourself. You will be able to relate to all the real life setbacks mentioned throughout the book. You will discover that you are not the only one who has struggled in the past.
You will learn what you must do to actually accomplish a goal that once seemed impossible!
Too many diet books and fitness experts make fat loss look easy. If losing weight was so simple, there wouldn't be so many confusing & complicated diet books in the world. We all would be comfortable with our current bodies instead of always searching for something better.
#1 Best-Selling Author of Release The Beast: Conquer Mental, Physical & Diet Challenges To Unleash The Champion Inside!, Michael V. Moore, is here to show you that nobody is perfect!
Just Keep Going sheds the light on what happens when normal real people go on a fat loss plan.
Just Keep Going provides you with:
10 MUST HAVES to finally finish your fat loss goal

Weeks of honest personal journal entries from a person trying to lose weight

Advice on how to set up a long term eating plan plan

What to do when life doesn't go according to your ideal fitness plan

A detailed daily log of EVERY single food item eaten during the incredible journey
Follow the advice in this book and achieve your ideal weight loss in weeks instead of years!
What's currently stopping YOU from finally reaching your own fat loss goal?
Scroll to the top, and click "BUY NOW"